WHW - Winterhilfswerk Reichsstrassensammlung / Winter Relief national collection
Collection of old German Winter relief donation gifts : national collection.
1933 - 1945 Winterhilfswerk ( WHW ) - Winter Relief
The Winterhilfswerk campaign was a German aid program for the poor that was held annually from October till March in the years 1933 – 1945. Although initiated by the government of Heinrich Brüning in 1931, Hitler and his Nazi party took full credit and used this program as propaganda for their party.
The need for milions of cheap donation gifts created work for the unemployed. Both the Hiltlerjugend (HJ) and the Bund Deutscher Mädel (BDM) were very active in collecting the donations and the program certainly helped the Nazi`s to win the German people for their party. Collections were made from door to door and in all public places like restaurants, theaters and buses. In the first years the campagne started of as a volunterly donation but soon changed into a more obligatory donation. Since 1936, employers were obligated by law to donate a part of the empoyees salary to the organisation.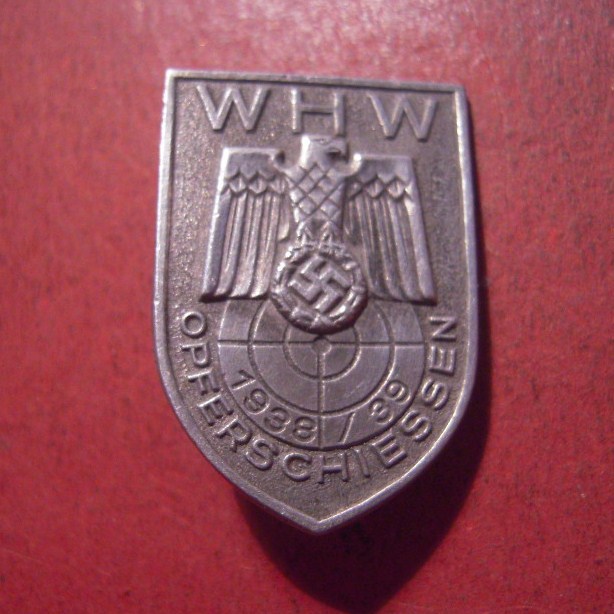 1938/39 WHW collection shooting pin.
On the next pages I offer many of these authentic donation collectables which were issued nation wide (Reichsstraßensammlungen).
(T...) number refers to catalogues : Reinhard Tieste - Spendenbelege des Winterhilfswerkes ,
Reinhard Tieste - Spendenbelege (1925-1945) ,
Deutsches Jugendherbergwerk , Deutsches Rotes Kreuz and others.